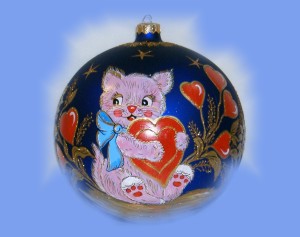 PPH Kares company is producer of glass Christmas tree decorations, hand blown, formed and decorated. Institute produce hand painted glass balls in different sizes and decorations in variety of shapes. We produce glass balls decorated according to wish of customer, we also offer original examples.
Our products are characterized by the highest quality and profitable price. Products of our company are very popular among consumers. All of our products are unique, and are attested as hand-made objects.
We specialize also in production of glass balls with advertisement and occasional glass balls. For introduction we offer wooden stands.




Glass flowers are blown and hand formed, similarly to glass balls. Later they are mounted in brass stands and decorated with variety of supplements. Moreover goblets of flowers are decorated with paint and brocade. In effect come into being article entirely shandicraft, which is unique. Glass flowers, which looks great as a decorations, also can be used as candlestick.